Never worry about doggy dehydration again! 
This water bottle has a built in bowl that allows you to provide your dog with fresh drinking water while your on the go. Perfect for a trip to the park or an outdoor adventure with your furry friend.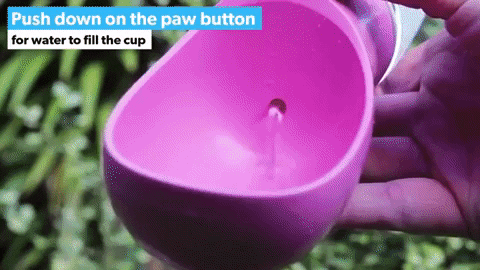 "Love it! It is very easy to use and carry for a walk or any outdoor activity to keep my dog hydrated. The water can be easily dispensed or returned to the storage." -Martha Suarez, Dog Mom
Why the Portable Dog Water Bottle is for you: 
Quick & Convenient: One-hand operation, easy to feed water
Perfectly Safe: High-quality material, lead-free, BPA-free, safe and durable, easy dismantling, and cleaning.
Leak Proof Lock Water: Silica gel seal ring, make sure the water doesn't leak in your bag.
Durable & Explandable: Removable top can be washed and easily attached to larger, enough for outdoor walking, hikes, traveling.
Easy For Tranportation: Compact water bottle is great for walking and traveling with your dog.